Optical Space Design

Ennco Design Services |
Optical Space Design, Architectural Services & Floor Plans
Two of the leading optical interior design and architectural teams came together to create the ultimate in personalized optical office design services. Jan Ennis of Ennco Display Systems and Cy Furman of Magic Design put their 80 years of combined optical space design and manufacturing experience to make design dreams come true. Our personalized optical store design services for retail spaces and medical offices allow you to experience and utilize various levels of service to best fit your needs. Whether creating a new space or redefining an old space, one of our many modern and contemporary design packages will cover all your needs. Our architectural services and optical practice design span industry needs from just a simple refresh of your dispensary, designing a new display or doing a complete remodel from the front door to the staff breakroom. The Ennco Display Group can make your dreams a reality. Our experience with optical store remodels and optometric architectural design allow the combination of form and function to merge with the reality of professional and retail environments to create a space that is tailored to your specific needs. From floor plans to interior design, and furnishings like reception and optician desks, dispensary furniture, showroom displays, store fixture casework, glass shelves, wall mounted displays and other storage and organization for your optical intentory - we are the complete solution for your optometry practice or retail shop.
Feeling like your space is stagnant or needs a refresh? Ennco can give your space a makeover and work with you to make your existing space exciting again. An optical space remodel is the best way to increase sales and improve your perceived value. Updated furnishings, or improved storage and display for your inventory go a long way!
Starting a new practice or expanding? Ennco can determine the square footage required, define the necessary spaces, and determine the best layout for your practice now and as you grow. If your practice is already established but you need more exam lanes or testing areas, Ennco can work with you to refine and update your layout to improve the efficiency of your space, as well as pick out the best furnishings and optical displays to showcase your sunglass and eyewear inventory!
Ennco has a variety of optometric store design and optical design services to satisfy the scenarios described above and many more. All our packages encourage and allow you to work directly with our design team to develop a space that is uniquely you.
Still not sure how to start? Check out our blog posts on How To Start the Design Process and Wanting to Create a New Space for tips on how to get started!

---
Floor Planning and Space Evaluation Package

Starting a new practice or optical store can be a daunting task. Your first step should be to call the pros (us!) and then pick a space. Many of our clients begin by investigating several spaces as possible lease options. We understand that evaluating a space can be very overwhelming, especially for someone who doesn't do it every day. That's why we are here; by offering a Floor Planning and Space Evaluation Package we can help our clients determine which space will work best for their specific needs.

Package Includes:
Space evaluation and consultation to determine the most appropriate layout, shape, and use for the spaces under consideration

We evaluate your business and discuss your needs (rooms, special equipment, etc.) to determine the appropriate size space that is needed

This service provides our clients a formal evaluation of "space only" to help formulate an educated decision when choosing a new office location, before signing the lease
Fees & Next Steps:
The fee for this service is $700.00 for the first space evaluation, and $500.00 for each additional space evaluations.

To get started fill out our design survey or call us at (425)883-1650 or (800)833-6626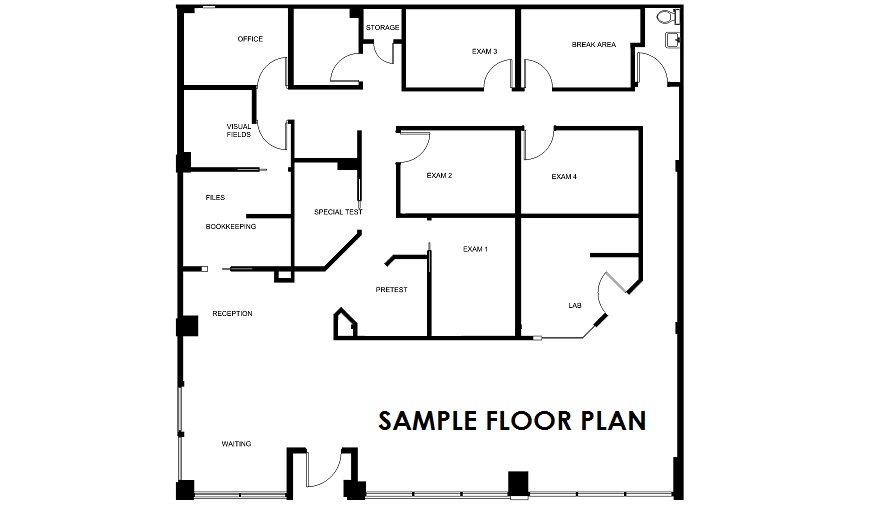 ---
Magic Design Package | Free Dispensary Layout and Fixture Plan

After Location, Location, Location... the most important aspect of retail selling is IMAGE! To be successful you need an environment that welcomes your customers and encourages sales. The dispensary is typically the first impression you give your customer. When they walk in the door you want them to feel comfortable and confident in you and your staff. We can help you put your best foot forward and design the best dispensary for your space.

Package Includes:
Professional review and evaluation of your existing dispensary.

Project review and initial consultation session with our design team to discover your wants and needs.

Schematic 3D images of your dispensary with our recommended fixtures and design updates.

A formal quote for the suggested fixtures and displays. Quotes will be provided once a final plan has been selected.
Fees & Next Steps:
This is a FREE service!

To enchance your dispensary design consider adding our Color and Finish Selection Package!
To get started fill out our design survey or call us at (425)883-1650 or (800)833-6626
If your project requires more services than provided in our basic Magic Design Package, such as contractor coordination, customization, full color renderings of the space, etc. we suggest you consider our other packages.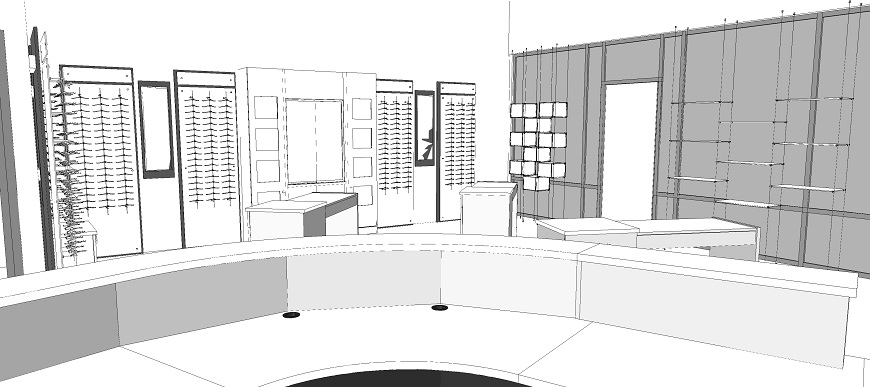 ---
Total Package Architectural Design
Our Total Package Architectural Design is the culmination of 40 years of optometric and optical space design and manufacturing focused on the needs of the optical retail industry. We evaluate and blend every aspect of optical retail space design with patient and production flow to create your perfect space.Once the floor plan is completed, the process of selecting all the parts needed for a TOTAL PACKAGE begins. Paint, laminate, seating, lighting and fixtures all come together in the Total Package to make completing your office project as simple as possible.
Our Total Package creates an electronic starting point for your office layout. With this service we work with your architect and/or contractor to provide the information necessary for your specific space requirements. This service saves you money by avoiding the costly mistakes typically made by architects and designers that have never faced the many complexities involved in the combination of retail and professional optical spaces.
Package Includes:
Thorough examination of your entire space. This package works well whether you are constructing a new open space or reconfiguring an existing space to create better flow, higher visibility or even adding new professional services.

Evaluation of your space needs. We analyze the services you offer, work flow, client flow, the required number of restrooms, the number of ancillary spaces, and the dispensary/retail optical space.

A completed space plan as well as concept and schematic drawings will be drafted per your requirements in electronic format which you may pass on to your local architect for permitting purposes if required.

Consultation and cooperation with your local architect (and/or contractor) to ensure the smooth transition from our floor plan to their final plans.

Schematic floor plan

Schematic design of store fixtures tailored to your space.

Schematic design of casework and lighting for your space

3D Perspective of the retail area of your space

Color and finish selections for casework, lighting, seating and flooring

A quote for all casework, displays, lighting, seating and flooring will be provided once a final plan has been selected.
Fees & Next Steps:
The fee for this service is $3.00 per square foot with a minimum of $4,000.

To get started fill out our design survey or call us at (425)883-1650 or (800)833-6626
Hear from others who have used our Total Package Design in our Customer Testimonials section, or check our Client Portfolio for design ideas!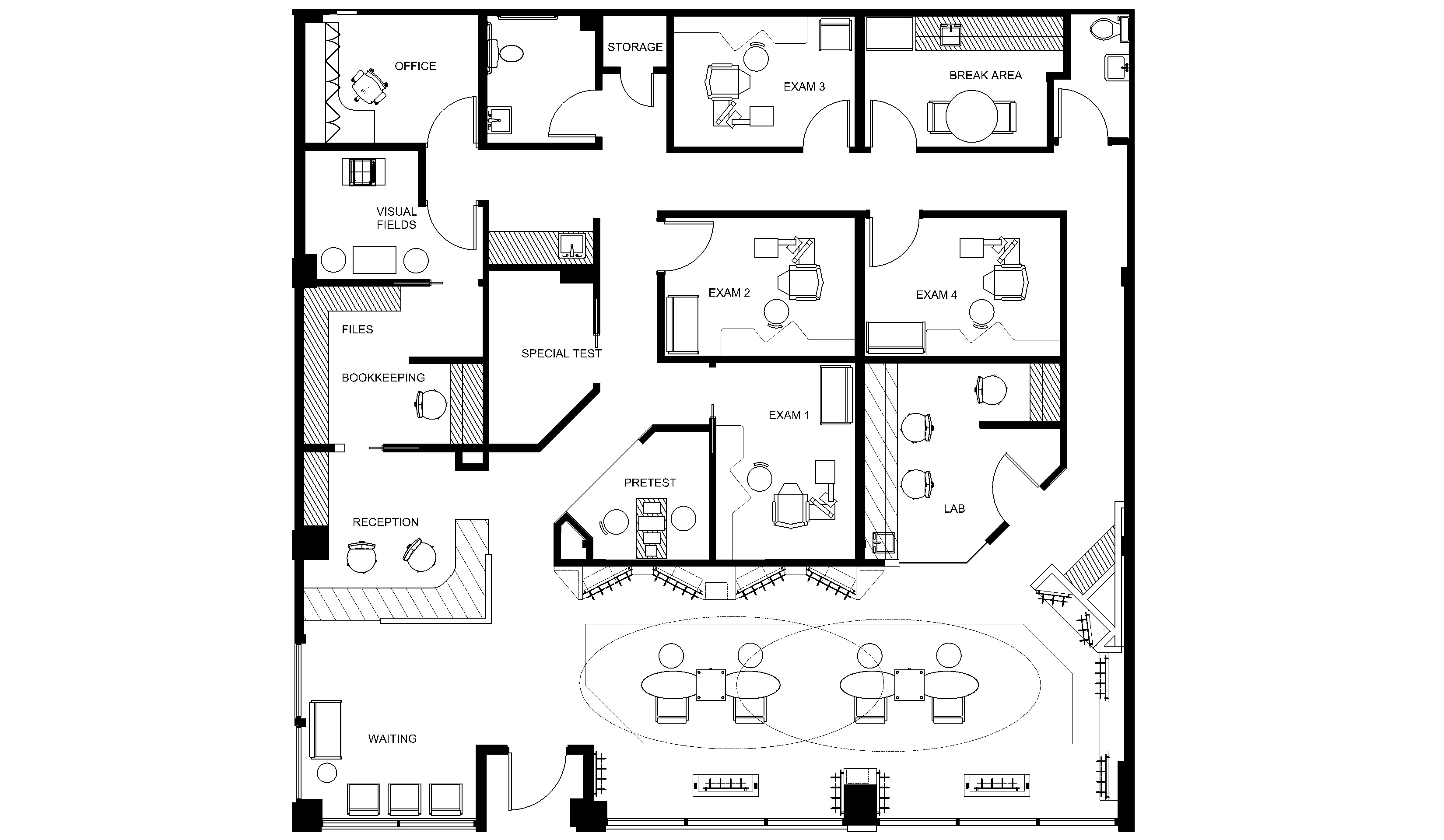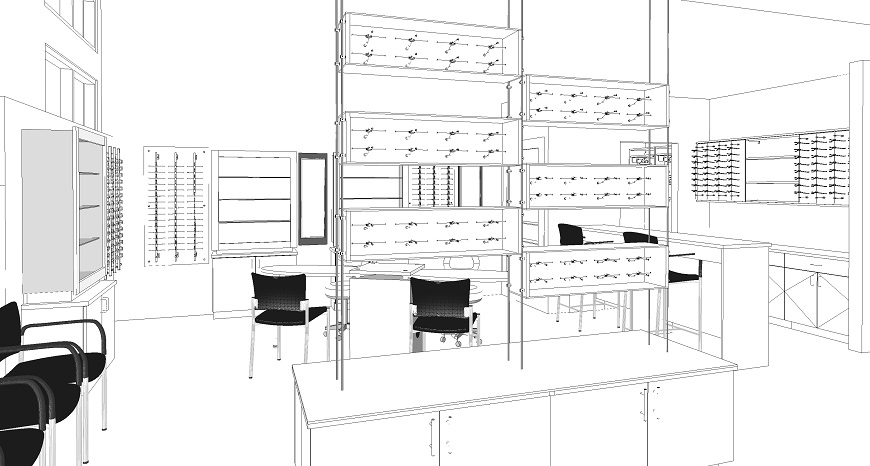 ---
Additional Services that can be added to any Package
The below services can be added onto any one of our optical design packages.
Color and Finish Selection Package: Let our designers select the perfect color pallet to create a space that is uniquely you! With this package we will provide you 3 different schemes in which we will specify flooring materials, wall paint colors, as well as laminate and fixture color and finish selection. $500.00 per space
Marketing Render Package: Add color and lighting to our pre-production 3D drawings. We create a full color render of your space that is suitable for marketing materials to announce your new space or for final decisions on color selection. $800.00 per space​
​Customization: Custom design of individual fixtures or architectural elements desired by the client. Hourly Rate
Project Coordination: Additional project coordination with local architect or contractor, if not included in your selected design package. Hourly Rate
Project Consulting: Additional project consulting, beyond scope of selected package. Hourly Rate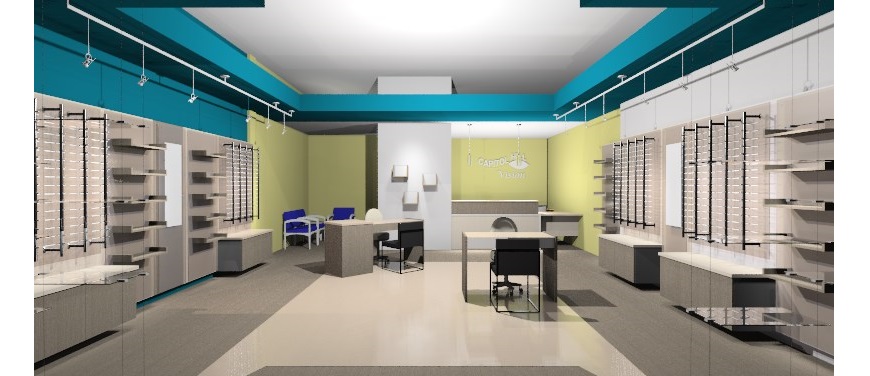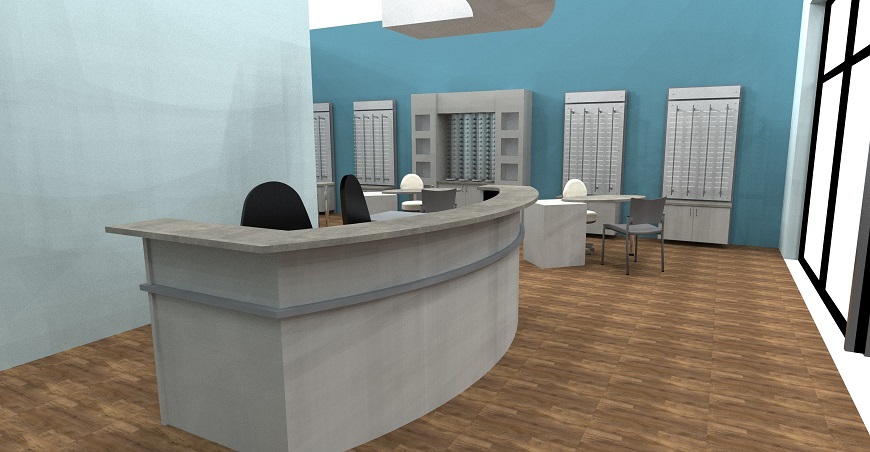 ---
Start by filling out our Design Survey and one of our team members will reach out to you regarding a project consultation for your optometric store, office or practice!